Incident Report - New Delhi, India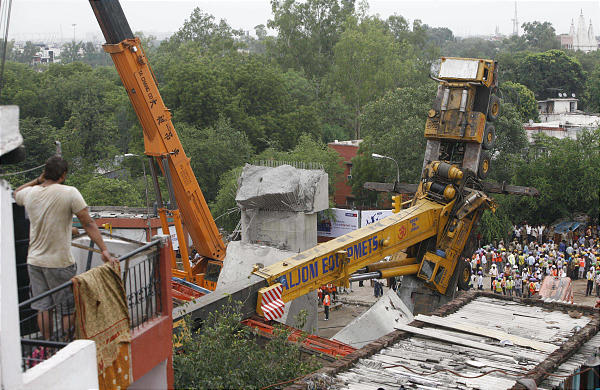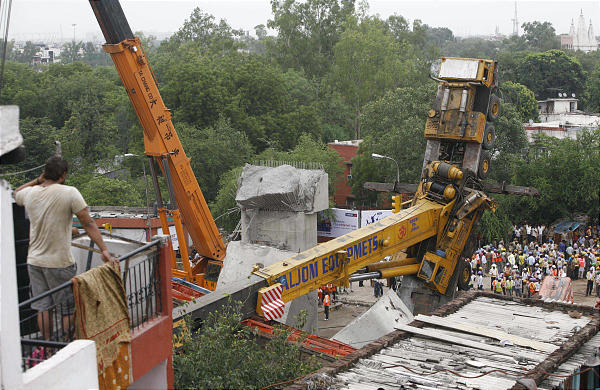 Three cranes collapsed injuring five people less than a day after a 6-person fatality was recorded at the same site. The Metro Rail – part of New Delhi's preparations for hosting the 2010 Commonwealth Games – was a significant project with horrid safety statistics.
The day prior to the attempted four-crane lift, a subway beam under construction collapsed killing six people and injuring 15 others. The four-crane lift was an attempted recovery of the collapsed beam which got underway the next morning. It is understood once the full weight of the beam was taken by the four cranes, the boom of the first crane (a 250 tonner) simply snapped under the weight passing a greater load onto the 350 tonne Krupp causing its boom to tear off entirely. The next crane (a 250 tonne Grove TM2500) tipped and its counterweight sections plummeted to the ground. The fourth crane (400 tonner) remained upright as that end of the bridge beam had only been lifted marginally when the collapse occurred at the other end.
Key learnings from this incident
A four-crane lift of an unsteadily placed beam in congested conditions requires a tremendous planning effort. While there is limited data available, less than 24 hours of planning took place for this complex lift. The immediate failure of the 250 tonne Grove and complete shearing off of the 350 tonner would suggest planning was completely inadequate or non-existent. It was remarkable no-one was seriously injured.